Joints: The choice and style of joint used can greatly effect the finished look of the stonework, the quality (hence price) of the stone used, and also the cost of the labor to lay it.
The most common types of joints are:
(a) Raked: This is where some of the mortar is scrapped back from the stone, usually to a depth of up to an inch. It is then cleaned with a soft brush, and then further cleaned again using a wire brush to ensure no motor residue is left on the stone.
This style has the effect of highlighting the stonework and making it stand out. Results in a wonderful finish, but ultimately relies on the masonry been done to a very high standard.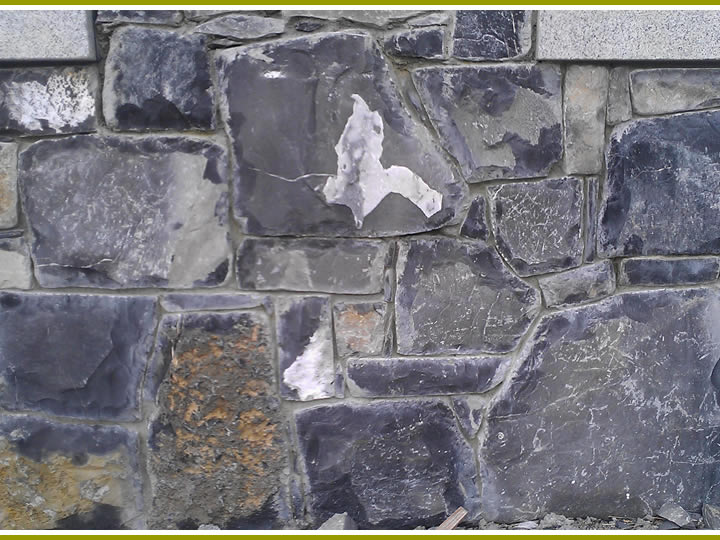 (b) Reversed Birdsmouth / Birds-beak joint. Depending on what part of the country, this style gos by different names. It is often referred to as a V-joint.
In effect, the mortar is left to protrude around half an inch from the stone, then cut at a 45 degree angle from the middle of the joint back to the stone. This is done on the top, and on the bottom of the joint. Creating a ' V ' which points out. The mix used is very strong, usually at around 2:1, and needs to be in order to attain this effect.
It is a wonderful finish, and has the advantage that one can use slightly rougher stone and still end up with a beautiful finish. The joint itself acts as a feature in this style, is highly visible and very ornamental.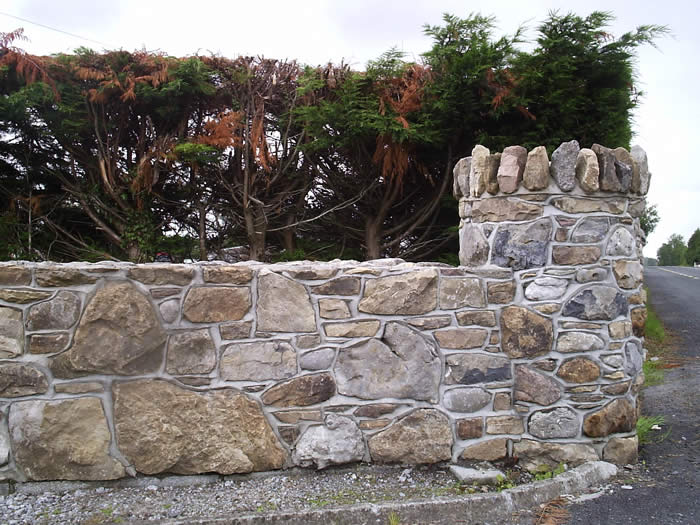 (c) Raised Weathered Joint: You will often see this on older estates It is where the mortar protrudes from the stone up to half an inch, and is then cut, keeping a flush face on the joint, and also cut straight on the top and bottom - creating a boxed effect.
(d) Weathered Joint - Mortar is recessed increasingly from the bottom to the top of the joint, with the top end not receding more than half an inch into the stonework.
(e) Concave joint - This type of joint is formed in the mortar through the use of a curved steel jointing tool. It is more commonly seen as a finish on red / brown brickwork, and on exposed block-work.
(f) Beaded joint - A raised and rounded, bead-shaped segment of the mortar is formed by cutting away from the mortar surface itself.
(g) Brushed or Flush joint - More commonly seen on older forms of stone masonry - castles - round towers estates etc. Where the joint is brushed flush with the stone.
See more of the different types of joints which can be used here.