I can't really put in words how genuinely delighted I'm with the finish.

When you are building your own home, your heart and soul is poured into the entire process. You think about and plan every aspect of the build, and want to get it just right - down to the last detail...
As the masonry was the main feature on my home, it had to be done aesthetically perfect, and I don't use that term lightly.
The house was somewhat of an unusual build, which consisted of a full two story external stone frontage, with stonework continuing internally in to the hallway and making its way through to the rear of the house. As it was going to be one of the first things that I would see in the morning, I really did need it to be built just right.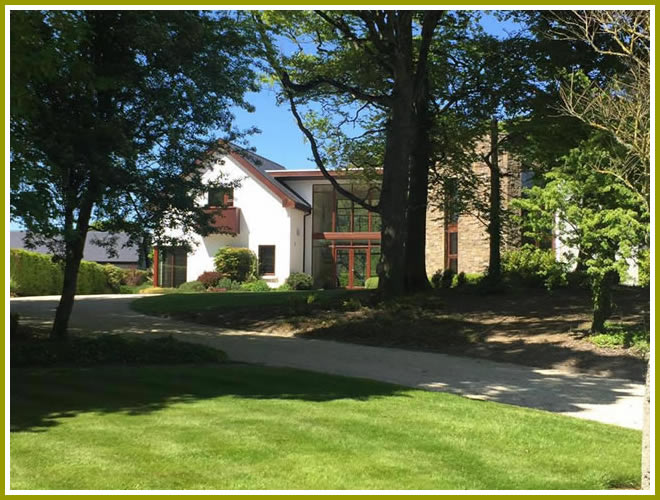 Along with this, I also decided to get a large 18 foot stone fireplace constructed in the sitting room, which is the predominant feature of the room itself.
In a sentence, I couldn't be happier with the outcome. The photographs here don't do it justice. It is only when you see the end result psychically for yourself, can you appreciate the workmanship and effort gone into it.
I had looked at many other stonemasons past work before deciding on Will. Stone to life just do it better. I highly recommend him.
Adrian - Dublin Rd, Oranmore County Galway.

It was a pleasure to deal with Will from the beginning of the job right to the end. He travelled out to Austria to do this job for me as he was highly recommended to my me by a friend and I am extremely happy that he did.
He put his heart into the project and especially as this was an internal wall in an old alpine farmhouse, how it finished which was excellent meant a lot to me and in keeping with the theme of the house. I would highly recommend him to anybody who wants a competent and well finished stone job done properly.
Richard McHugh
Galway native. Now, Montafon, Austria.

Will at stone to life was an absolute pleasure to deal with. He did an amazing job of my fireplace taking excellent care to detail. He goes the extra mile to make sure you are fully satisfied with project. Very trustworthy friendly person and very highly recommend.
Christopher Doolan
Kildare town

Hi, I was unsure how to go about a project, building a planting area and a small stone building in my garden. I contacted Will at Stone to Life and he helped me with every aspect of how to build these for myself. I was a total novice. he even showed me and helped with every stage of calculations and the creation of foundations. He came back afterwards to check and ensure I had done the job correctly, free of charge.
The result of using Stone to Life to instruct me in traditional stone building is that I have successfully created my own walled designs and now can create anything I want with confidence. I can not recommend Will and Stone to Life enough for helpeful, west-of-Ireland-friendliness and in depth knowledge.
I cannot recommend Stone to Life highly enough.
Brendan Heard. Rathfarmham, Dublin.

Very reliable and excellent work.
J Hickey
Ralelagh Dublin

I had Stone to Life turn my drab boring fireplace into a real thing of beauty. It turned out even better than i hoped and is a real talking point in our home now.
Great to deal with personally and very considerate with out timetable and working hours as we have twin newborn girls.
If i ever need anymore stonework done ill know who to call. Couldn't recommend them highly enough.
William McCann
Enniskerry, Wicklow.

We designed our own garden (south Galway) with a suntrap plastered on the inside to reflect sunlight and with limestone on the outside to give it an authentic look being the focal point in the garden. After an extensive search for afordable but professional stone masons we got in touch with Stone to Life. They showed us how they stand out from the rest by their exceptional high quality of work with great attention for detail very unlike the mass production facades in many housing estates nowadays. The work was finished within the agreed timeframe and, moreover within budget. We and anyone who has seen the walls are very excited about the astonishing result. We highly recommend Stone to Life, 5 stars all the way!

Walter and Laura Verbruggen
South Galway